HOWO Concrete Mixer Truck Description:
SINOTRUK HOWO Concrete Mixer Trucks For Sale: 10CBM / 10 Wheels / 371HP Engine
Concrete mixer trucks for sale use imported hydraulic system, which is easy to repair and maintain. It has the advantages of beautiful appearance, powerful operating system and excellent security. By the majority of customers of all ages.
HOWO Concrete Mixer Truck Design Highlights
The cab of the Concrete mixer truck has a sun visor on the top, and HOWO family exclusive independent width indicators on both sides. These designs can play a very good warning role in complex working conditions such as vehicles entering and leaving the construction site. And you can choose the engineering version bumper and any general-purpose parts that are the same as the logistics transport model according to actual needs. At the same time, the built-in LED warning light can provide a reliable warning effect for driving in the city and construction site no matter it is day or night.
Concrete Mixer Truck for Sale
SINOTRUK Concrete Mixer Truck Garage
Vehicle Configuration
The concrete mixer truck for sale uses radial wire tires with a size of 12.00 R20. The overall load capacity and durability have obvious advantages over tubeless tires, especially when driving under complex working conditions.
The mileage of HOWO mixer truck is also far beyond similar products. The total capacity of the fuel tank is 400L, calculated according to the average fuel consumption of 40L per 100 kilometers under urban road conditions, and its actual battery life can also reach more than 1000km.
Concrete Mixer Truck Specifications:
SINOTRUK HOWO Concrete Mixer Truck For Sale
Product name: HOWO concrete mixer truck
Condition: brand new
Model: ZZ5257GJBN3847N1
Drive Type: 6×4
Engine: WD615.47 , 371HP( Euro II)
Horse power: 336 horse power/371 horse power/420 horse power
Cabin: HOWO 7 driving cab(with one sleeper, air-conditioner and new-style seat)
Driving type: right hand drive and left hand drive is optional
Transmission: HW19710(10 forwards & 2 reverses)
Front Axle: 1×HF9 ( 9 Tons)
Driving Axle: HC16, 16Tons
Steering: ZF8098 hydraulic steering with power assistance.
Clutch: Single-plate dry coil-spring clutch, diameter 430mm, hydraulically operating with
Rim/ Tire: 11.00R20,12.00R20, the model of tyre you can choose
Wheel base: 3825+1350(mm)
Overall dimension: 8604×2496×3950(mm)
Tank body Capacity: 10CBM
The curb weight: 12800(Kg)
Gross weight: 25000 kg
Max. Speed: 102km/h
Color: White, red, green, golden and so on, color is optional for you
Other Unique Designs:
The post-processing system of the concrete mixer truck is installed on the side of the chassis, and the external aluminum alloy heat shield can play a good protective effect, especially when parking and regenerating, it can reduce the safety hazards to surrounding vehicles and pedestrians.
The engine adopts a high-strength structural design, uses an efficient cooling system, and better engine thermal management technology. At the same time, the waterproof performance of the body has reached the highest standard of similar products in the world, and the reliability has been significantly improved. It can fully cope with the harsh transportation environment on the construction site.
Concrete Mixer Truck Images: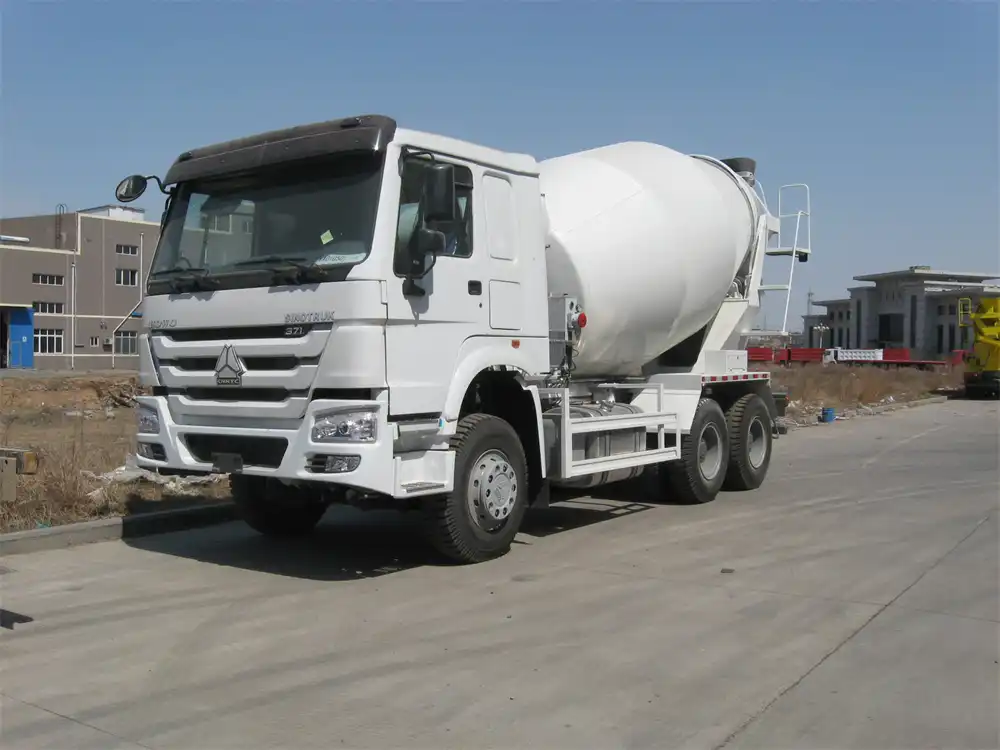 If you have any questions,pls check FAQ or Contact Us.