Shacman X3000 Description:
Shacman is a famous commercial vehicle manufacturer in China. The X3000 is one of its most popular collections. The Shacman X3000 head truck is a high-performance 6×4 head truck, equipped with Cummins engine. It is designed specifically for long-distance transportation needs. Due to its reliability and efficiency, many companies choose it as a commercial vehicle.
One of the key factors businesses consider when buying a commercial vehicle is price. The Shacman X3000 is priced competitively with similar vehicles. Shacman X3000 prices vary depending on the specific model and feature selected.
In terms of configuration, the Cummins engine provides Shacman X3000 with excellent performance. The Shacman X3000 has a top operating speed of 84km/h and a curb weight of 8800kg. The total mass of the vehicle is 25,000 kg, and the wheelbase is 3175+1400 mm. The Shacman X3000 is also equipped with a powerful ISME385 30 engine that delivers 385 horsepower. The transmission is a 12JSD200T (FAST GEAR) transmission, and the clutch is Ф430 diaphragm type. The steering system is based on ZF technology and ensures excellent on-road handling and maneuverability.
One of the standout features of the Shacman X3000 tractor is its cab. The Shacman truck is equipped with a MAN X3000 cab, equipped with air conditioning, and a double sleeper, ideal for long-distance transport. The truck is also equipped with a 90# fifth wheel, 600L alloy fuel tank, 12R22.5 radial tires, and a 10+1 spare tire. The front axle is a 9.5-ton MAN drive axle, a rear axle is a 16-ton MAN drive axle, and the final drive ratio is 3.083.
The Shacman X3000 is a reliable tractor truck. For the Shacman X3000 price, the Shacman X3000 is cost-effective and competitive. An attractive option for businesses looking for a powerful and efficient towing vehicle at a competitive price.
All in all, the Shacman X3000 tractor truck is an excellent choice for businesses seeking reliable and efficient commercial vehicles. It has a powerful engine, advanced design, and suitable price. If you need to transport goods over long distances, you can consider purchasing this car. Before you choose to purchase, you can first determine your needs. You can also learn about the various models and functions of Shacman trucks first. Let us find the truck that best meets your needs and budget.
Shacman X3000 Advantage:
High-strength frame for excellent crash resistance and reduced impact of collisions.
Spacious, comfortable MAN X3000 cabin with air conditioning and double sleepers for a safe and comfortable environment during long-distance travel.
ZF steering system provides precise and stable steering control.
Powerful brake system, including ABS anti-lock braking and EBS electronic brake systems, prevents wheel lock-up during sudden braking and ensures vehicle stability.
High-quality lighting system, including headlights, taillights, and turn signals, for excellent visibility and safe driving at night or in poor weather conditions.
Shacman Truck Specifications:
SHACMAN X3000 Tractor Truck Specifications
Model
SX42564T324
Max. running speed (km/h)
84
Drive System
6×4
Overall Dimensions (L*W*H)(mm)
6825×2490×3980
Approach / departure angle (°)
18 / 55
Curb weight (kg)
8800
Total mass (kg)
25000
Wheel base (mm)
3175+1400
Overhang (mm) (front/rear)
1525/725
Track width (mm) (front/rear)
2036/ 1860
Engine
ISME385 30
horsepower
385 hp
Gearbox
12JSD200T(FAST GEAR)
Clutch
Ф 430 Diaphragm type
Steering
ZF technology
Cab
MAN X3000 cabin with A/C & double sleepers
Axle
Front axle
9.5ton MAN
Rear axle
16 Ton MAN driving axle , final ratio3.083
Fifth wheel
90#
Oil tank(L)
600L (ALLOY)
Tyre(radial tyre)
12R22.5(10+1 spare tyre)
Shacman X3000 Images: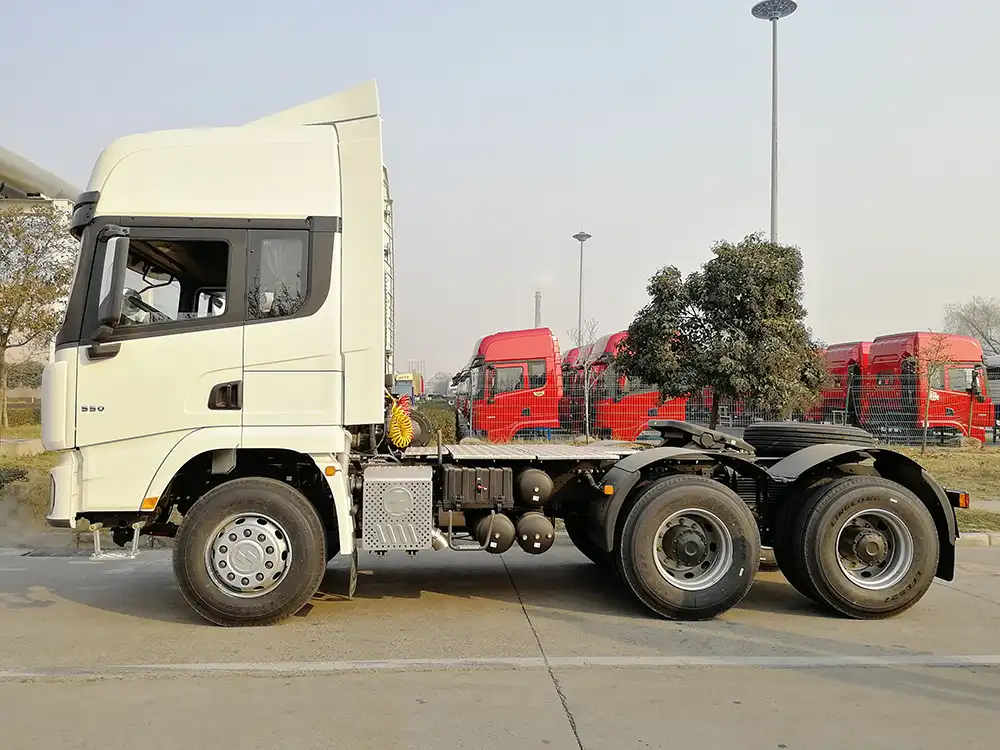 If you have any questions,pls check FAQ or Contact Us.